Phototherapy Pad
Product categories of Phototherapy Pad, we are specialized manufacturers from China, infrared therapy light, red led light suppliers/factory, wholesale high-quality products of red light therapy near me R & D and manufacturing, we have the perfect after-sales service and technical support. Look forward to your cooperation!
Portable near infrared red light therapy body wrap

Brief Description 850nm and 660nm waves These have been proven to stimulate acupuncture points increase blood circulation and help with antioxidant enzyme release Phototherapy in this spectrum also promotes muscle relaxation and generally facilitates pain reduction stimulates fibroblast and collagen production...


Multicolor infrared led pad red light therapy pad

Multicolor flexible pain relief pad Phototherapy pad combines red infrared yellow blue lights which is multicolor pain relief system for local part of body Two pads and one controller for one set The controller can control two pads at the same time with Time control Frequency modes control and 4 colors indepently...


Near Infrared Red Light Therapy Pain Relief Wrap

Near Infrared Red Light Therapy Pain Relief Wrap Photobiomodulation Therapy is available to you through Suyzeko SSCH state of the art pulsed Red and Infrared LED light therapy systems We offer LED therapy pads comes with programmable controller that chooseable light and frequency mode and time adjustable You can...

China Phototherapy Pad Suppliers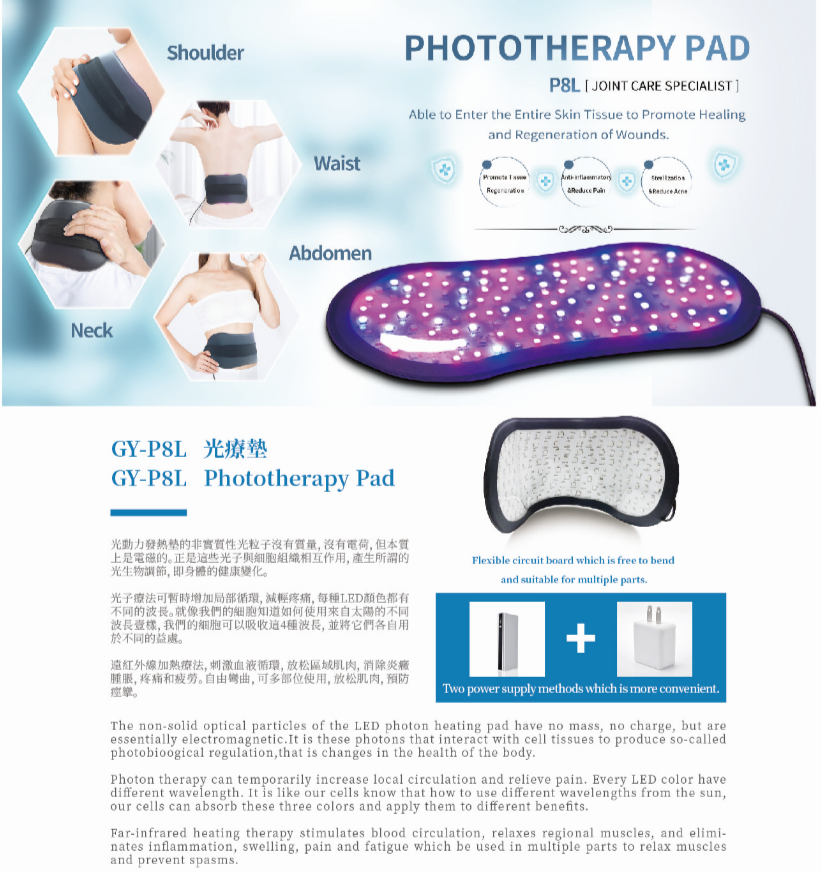 red light therapy treatments supercharge your cells with the natural light they need to make more energy. Our cells need natural light to function, just like they need water and nutrients from food. Red light therapy allows you to supplement the light you get from your environment with concentrated wavelengths of red and near infrared light.
Red light therapy works by boosting your energy production at a cellular level. Healthy, natural light stimulates the mitochondria, the powerhouse of the cell, and enhances the cellular respiration process that makes ATP (adenosine triphosphate) energy. Humans make ATP every day, and it fuels everything we do. The more energy our cells can make, the better our bodies look, heal, feel, and perform.
Red light therapy has also been found to enhance blood circulation, reduce the body`s inflammation, and encourage antioxidant production.