Guide
Most of the deadly cancers are associated with metastatic spread and require systemic treatment strategies for chemotherapy and radiation therapy. In general, patients with advanced stages of diffuse cancer have very low lymphocyte counts, and they are not suitable for existing systemic therapies and emerging immunotherapies. The latest study published in the journal Nature Communications shows that diffuse cancer can be treated by photoactivated chemotherapy drugs.
Samuel Achilefu
"Our research shows that this phototherapy technique is particularly suitable for attacking small tumors that spread to different parts of the body, even deep into the bone marrow," said the author, Professor Samuel Achilefu of the Department of Radiology at the University of Washington School of Medicine, but he still believes Cancer spread is the leading cause of death in patients.
According to the new study at the University of Washington School of Medicine, light as part of traditional cancer imaging technology can target metastatic tumors and can also trigger photosensitizing drugs.
This technology utilizes a "titanocene" chemotherapy drug. As a single chemotherapy drug, even in relatively high dose clinical trials, titanium cyclopentadiene does not work well in clinical trials. However, when exposed to visible light radiation, even at low doses, it produces active particles that are toxic to the cells.
Achilefu and his colleagues encapsulate low doses of titanium cyclopentadiene in nanoparticles that target proteins on the surface of cancer cells. It was found that when the nanoparticles are in contact with cancer cells, their membranes fuse together to release the cyclopentadienyl titanium into the cells.
The researchers then used a common cancer imaging agent, fluorodeoxyglucose (FDG). Cancer cells efficiently absorb FDG, a radiolabeled sugar molecule, to support their rapid growth, allowing tumors to illuminate in positron emission tomography (PET) scans, regardless of where the tumor is in the body. The addition of FDG achieves two purposes: first, to maintain the role of imaging agents; and second, to provide light sources for phototherapy.
Since cyclopentadienyl titanium and FDG are simultaneously targeted to the same location in the tumor, this technique is considered to be less toxic than standard radiotherapy and chemotherapy. Studies have also shown that the body can get rid of titanium cyclopentadiene through the liver and clear the FDG through the kidneys. These two components are treated separately to minimize damage to other organs. According to the researchers, when the two components are present alone, they are non-toxic.
Subsequently, the researchers used multiple myeloma (MM) and metastatic breast cancer mouse models. Mice with multiple myeloma were treated once a week with this strategy for 4 weeks. In the next few weeks, the treated mice showed significantly smaller tumors and survived longer than the control mice. 50% of the treated mice survived for at least 90 days, and in the control mice, 50% survived for 62 days.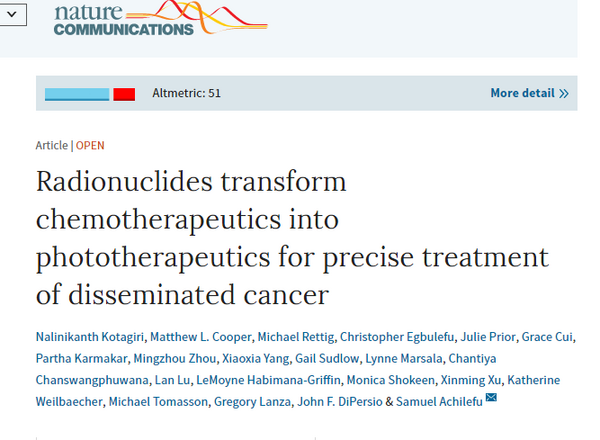 It also showed anti-tumor effects in mice with breast cancer, but its effect was not significant compared with patients with multiple myeloma, probably due to the extreme aggressiveness of breast cancer cell lines. The researchers also found that certain types of multiple myeloma were unexpectedly resistant to this technique. They hypothesized that drug-resistant multiple myeloma cells may be lacking surface proteins for targeting titanium cyclopentadiene nanoparticles.
Achilefu said: When we look closely at cells that are resistant to phototherapy, we find that the surface proteins we target do not exist. So next, we wondered if another surface protein could be found to target and kill these resistant cells and myeloma cells that responded to the original treatment.
Achilefu envisions that one day it will be able to use this technology to prevent cancer from recurring, and we hope to turn cancer into a chronic disease that can be controlled for a long time.