Collagen Red Light Therapy Bed Principle:
The red light of the Collagen Red Light Therapy Bed refers to a comprehensive light wave with visible light of 600-700 nm (more than 90%) and infrared light of 700-4000 nm (10% or less). Scientific research shows that the use of red light for external irradiation can produce important biological effects and achieve certain therapeutic effects on the skin.

Red light beauty is a fixed diode low-energy light (633nm red light) instead of laser to relax and strengthen micro-vessels, promote blood circulation, increase oxygen and accelerate detoxification. Red light can improve the microcirculation of the blood system and lymphatic system of the skin, stimulate the intracellular mitochondrial activity. The specific wavelength of red light can convert light energy into bioenergy, neutralize free genes generated in cells, and stimulate fiber cells to produce collagen. , can gradually change from the inside of the skin. High-purity, specific-wavelength red light ensures that users are protected from other harmful light, effectively acting on the mitochondria of subcutaneous tissue cells, producing highly efficient photochemical biological reactions - enzymatic reactions, and activating cellular color in cell mitochondria The oxidative enzyme C, which produces more energy to accelerate the synthesis of DNA and RNA, promotes the formation of large amounts of collagen and fibrous tissue, and accelerates the elimination of pathological or dead cells, thereby repairing damaged skin cells for cosmetic effects.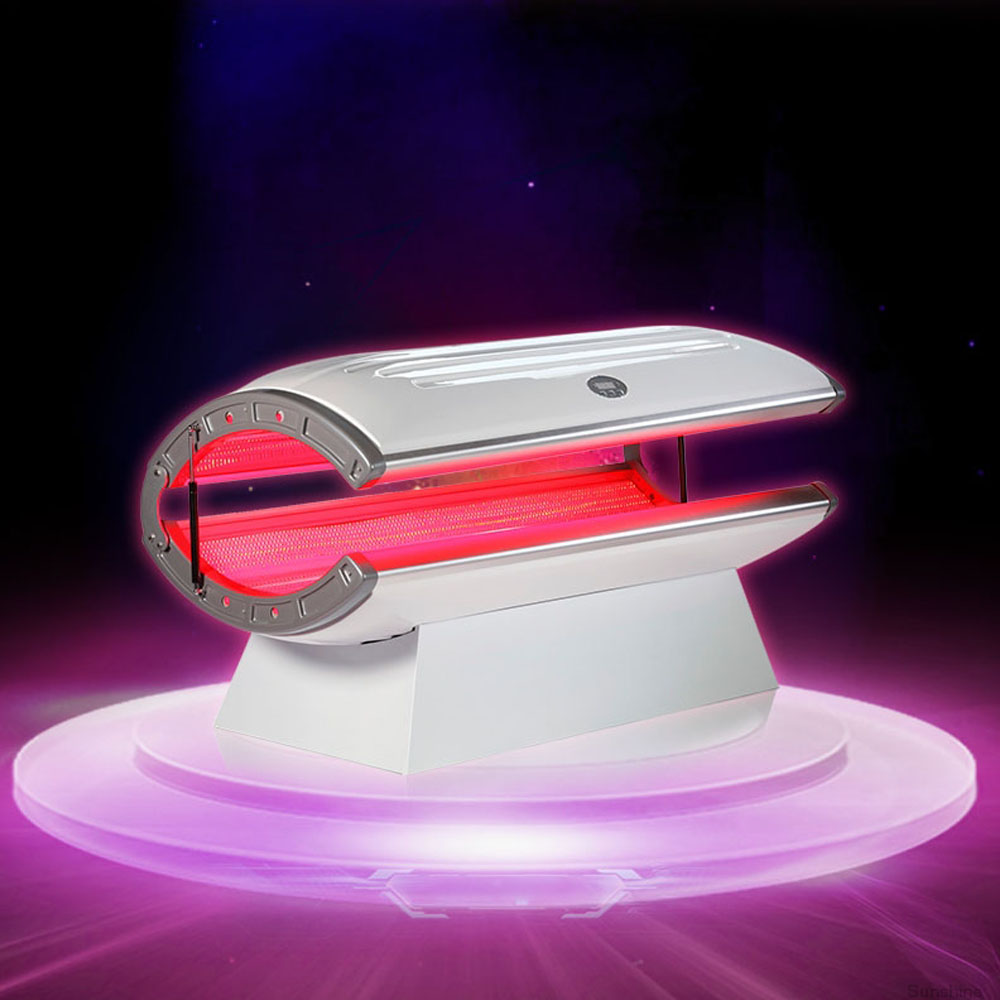 Collagen Red Light Therapy Bed Product Effects:

• Minimizes wrinkles and fine lines • Reduces crow`s feet
• Improves skin tone • Helps sun damaged skin
• Heals and prevents acne
• Stimulation&regeneration of collagen

• Photorejuvenation
• Full body Phototherapy
• Automatic-off timer to guarantee accurate session time
• Minimal heat output

• Curved canopy for side to side skin rejuvenation
• Specially glossed aluminum reflectors to provide even rejuvenation
• Biotech tunnel design
• Superflow internal cooling fans
• Adjustable gas spring lifts
• Minimizes wrinkles and fine lines
• Reduces crow`s feet
• Improves skin tone
• Helps sun damaged skin

• Heals and prevents acne
• Stimulation & regeneration of collagen
• Activates fibroblast cells which create collagen and elastin
• stimulates increased blood flow, regeneration, circulation and oxygenation
• Heals skin blemishes
• Reduces skin degradation
• Creates more skin moisture which will help fill out skin
• Body detoxification
• Helps irregular pigmentation
• Increases circulation

• Reduces brown age-spot producing melanin
• Reduces pore size • Reduces skin coarseness
• Reduces overall redness, flushing, dilated capillaries